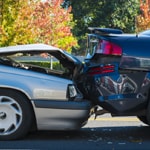 We at Larry H. Miller Chrysler Jeep Dodge Albuquerque know how important car seats are for parents in Albuquerque, NM. So, we've put together some info on the LATCH rating system and how it impacts them. First invented in 2015, they were designed to let you know how easy it was to use car seats in particular vehicles.
Back then, most vehicles sold weren't performing well according to this system. However, automakers have changed designs, improving performance on this metric. Now, up to 2/3 of vehicles sold have a good rating on this scale.
For a vehicle to obtain a good score, it must conform to certain standards. For example, the lower anchor may not be more than 3/4 of an inch deep in the seat bight. Plus, it needs more than 54 degrees of clearance around it to qualify for a good score. There may not be any other hardware near the tether, or it would be easy to confuse things.