The all-new 2019 RAM 1500 is truly stellar in all capacities. This redesigned truck is the pinnacle of RAM engineering, and we'd be remiss not to share with you exactly what makes this truck so big, bad, and bold. From its aesthetics to its performance, this truck shines brighter than the competition—and for good reason. Let's dive in and take a look at some of its most striking features.
Design
This vehicle has been revamped and redesigned for a more modern, aggressive, and elevated look. The front grille will definitely stand out to most, as it has been given a much-needed makeover. New RAM lettering adorns the front of the vehicle and leaves no question as to the make of this truck. The body of this truck has also been reimagined, giving the 2019 model a more modern and technical look. But looks aren't everything—this vehicle has been given more cargo space, more storage space, and all-new LED lighting systems.
Technology
The new RAM 1500 has also received some awesome upgrades in the tech department. This truck features a massive 12-inch HD display complete with the award-winning Uconnect® system. This system helps keeps all of your devices connected and is compatible with Apple CarPlay and Android Auto—a huge plus to nearly everyone. This new RAM also features a 360-degree bird's eye view camera, which makes parking this truck a breeze. As far as safety goes, this RAM is top of the game. Available collision warning, lane departure warning, blind spot monitoring, and park assist make this vehicle the safest RAM to date.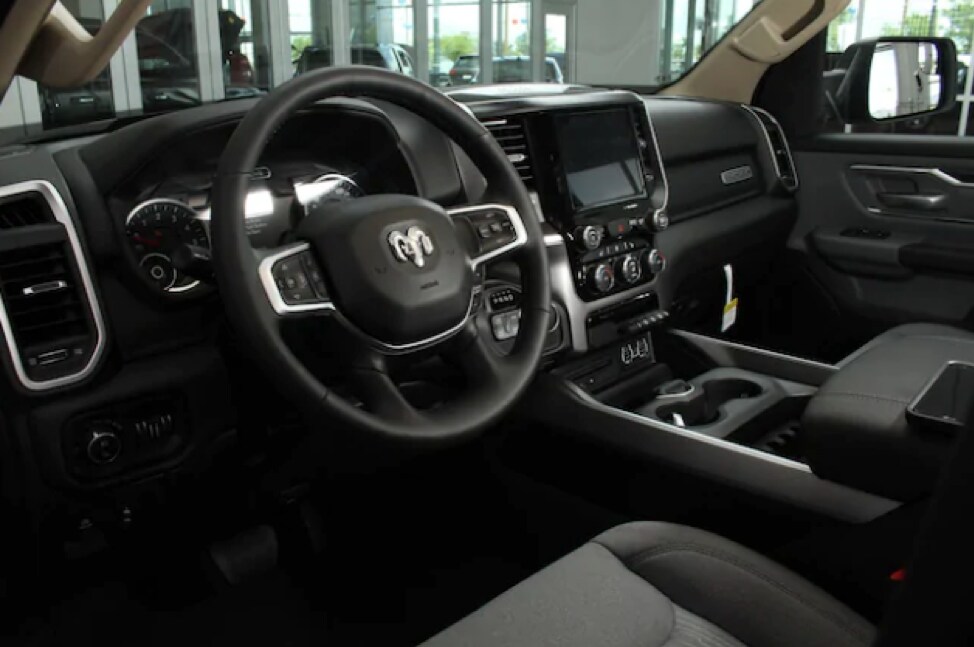 Capability
Looks and tech don't add up to anything if your truck can't perform in the most grueling work environments. Fortunately, this RAM holds up exceptionally when tasked with a difficult job. It was specifically engineered to be lighter, yet more powerful. The 2019 model shed 225 pounds from the previous model year, yet is stronger and more durable thanks to its composition of high-strength steel. The new 1500 can carry up to 2,300 lbs.* and tow up to 12,750 lbs.*.
If you're looking for a truck that can do it all without compromises, look no further than the new RAM 1500. It has the technology for the modern age, a sleek and aggressive new design, and is more capable than ever. Give this bad boy a test drive and see what all the buzz is about. We promise you won't be disappointed!